19.11.2014, DerBloedeDritteMittwoch#35:
Judy Dunaway (US) [balloon music]
"Penny Swanee (sliding whistle) Orchestra" – composition/schemed by Keiko Uenishi (JP / US) [performance]
Katharina Ernst + Martin Siewert (A): "Erstmals nicht unter Tage" [konzert]
dj: le week-end
Judy Dunaway performs avant-garde compositions and free improvisations on
amplified latex balloons played as musical instruments.  She is known
internationally as a  "virtuoso of the balloon."  She plays a variety of
shapes and sizes of balloon instruments, each with it's own special
qualities, pushing the extremes of both pitch range and artistic limits.
Her giant balloon pulsates into the depths of the subaudio, her blown
balloon wails in a high soprano and her large rubbed "tenor" balloon gives
Jimmy Hendrix's guitar a run for the money.   Her abstract music and
sounds are difficult to equate with other forms, depending upon the
perception of the individual like the images seen in fire or clouds.
Judy Dunaway has presented her works for balloons at many major venues
throughout North America and Europe, including Academy of Media Arts
Cologne (Cologne), Avant-Garde Schwaz Festival (Austria), Alternative
Museum (NYC), Bang on a Can Festival (NYC), Everson Art Museum (Syracuse),
Frau Musica Nova Festival (Cologne), Guelph Jazz Festival (Canada),
Lincoln Center Out-of-Doors (NYC), New Museum of Contemporary Art (NYC),
Performance Space 122 (NYC), Podewil (Berlin), Roulette (NYC), CEAIT
Festival (Los Angeles), Seltsame Musik Festival (Krems, Austria), SoHo
Arts Festival (NYC), STEIM (Amsterdam) and Zentrum fuer Kunst und
Medientechnologie (Karlsruhe).   She has also performed on balloons with
many outstanding musicians including Roscoe Mitchell, Jennifer Walshe,
John Hollenbeck, Yasunao Tone, and the FLUX Quartet.  CDs of her works for
balloons have been released on the CRI (Composers Recordings Inc) and
Innova labels, among others.
en.wikipedia.org/wiki/Judy_Dunaway
Penny Swanee (sliding whistle) Orchestra – composition/schemed by Keiko Uenishi
I finally managed acquire the toy '(penny) swanee whistles' (also known as slide whistles.) TONS of them!
http://en.wikipedia.org/wiki/Slide_whistle
about Keiko Uenishi (o.blaat) >> http://soundleak.org
CALL FOR PARTICIPATION:
So, we'll make a big attempt to call for participation (as many as 40!) to achieve the effect of recreating "the thin, monotonous whine of accursed flutes" – a la "The Dream-Quest of Unknown Kadath" (Lovecraft 1926-27) – the idea suggested by Steve Speer who initially donated the 'flutes'!
Let's DO it!!
1: Simply show up on Wed 19 November, 2014 at Der Bloede Dritte Mittwoch @rhiz,
U-Bahnbogen 37, 1080 Vienna, Austria. The door is open at 20:30.
2: The "Penny Swanee Whistle Orchestra" attempting to recreate "the thin, monotonous whine of accursed flutes" will be one of the 3 concerts on that evening. https://bloedermittwoch.klingt.org/
3: Instructions will be given on the spot.
4: No prior experience playing the instrument (or any instrument) is required at all.
5: Deal for registered participants: The entry fee €5 will be waived for participants as long as you are pre-registered by responding to this call. (But of course, it's always helpful if you can contribute to Der Bloede Dritte Mittwoch!) You can also keep the whistle as my token of 'thank you!'
To Register:
Please send your name (nickname is ok as long as it's an unique name)
to Keiko: oblaten_at_gmail.com
So, what's…. "the thin, monotonous whine of accursed flutes"?
Here's what Steve Speer said:
below..lovecraft quotes..i know there's some good quotes on "mad pipers" who caper around the throne of azazoth.. but maybe i "m hallucinating

[O]utside the ordered universe [is] that amorphous blight of nethermost confusion which blasphemes and bubbles at the center of all infinity—the boundless daemon sultan Azathoth, whose name no lips dare speak aloud, and who gnaws hungrily in inconceivable, unlighted chambers beyond time and space amidst the muffled, maddening beating of vile drums and the thin monotonous whine of accursed flutes.[9]

blind idiot god Azathoth, Lord of All Things, encircled by his flopping horde of mindless and amorphous dancers, and lulled by the thin monotonous piping of a demonic flute held in nameless paws."[15]

the thin, monotonous whine of accursed flutes; to which detestable pounding and piping dance slowly, awkwardly, and absurdly the gigantic ultimate gods, the blind, voiceless, tenebrous, mindless Other Gods whose soul and messenger is the crawling chaos Nyarlathotep.
Qtd by SPEER, from "The Dream-Quest of Unknown Kadath" (Lovecraft 1926-27)
Katharina Ernst + Martin Siewert: Erstmals nicht unter Tage
Martin Siewert bedient seit geraumer Zeit diverse verstärkte und unverstärkte Gitarren, in elektro-akustischen, improvisatorischen und Avant-Rock Kontexten, u.a. in den Ensembles Radian, Trapist und Fake The Facts, sowie in zahlreichen Impro- und vereinzelten Neue Musik Kombinationen.
Von Katharina Ernst am Schlagzeug ist von rotzig-lautem Getrommel bis polyrhythmisch ausgetüftelten Grooves alles zu erwarten. Auftritte mit u.a. Kazuhisa Uchihashi, eRikm und Burkhard Stangl werden durch ihre Projekte im Bereich der Bildenden Kunst und der zeitgenössischen Choreographie ergänzt.
…dass sie einander musikalisch so gut zu kennen scheinen ist der Tatsache geschuldet, dass sie seit Jahren durch angrenzende Arbeitsareale ZeugInnen der gegenseitigen künstlerischen Arbeitsprozesse werden; und somit zumindest bestens informiert sind wie das musikalische Gegenüber mit ANDEREN agiert – wie sich jenes Insiderwissen auf die Weltpremiere im Rahmen des Blöden Mittwochs auswirkt, gilt es vor Ort herausfinden.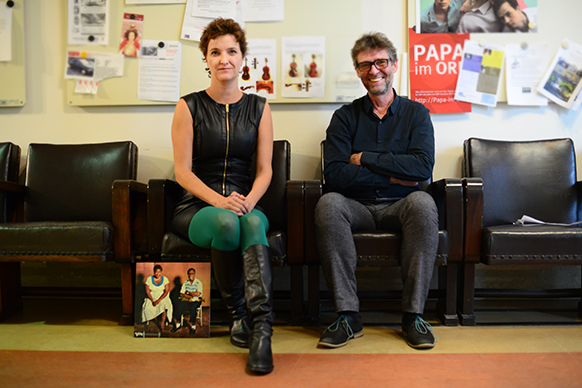 DJ's: le week-end